August 18th: two thunderstorms in the morning. We start out in the afternoon, and follow US 24 into endless cornfields. As a huge thundercloud comes into view, we enter Quincy, Illinois' westernmost city. On the other side of the Missouri River is the city of Hannibal, Tom Sawyer's hometown.
19th: no hint of rainfall. We cross the river, now into Missouri. The main use of land here is cattle breeding, not corn growing anymore. Railroad tracks appear next to the road, and there comes a long, long freight train with graffiti on its side.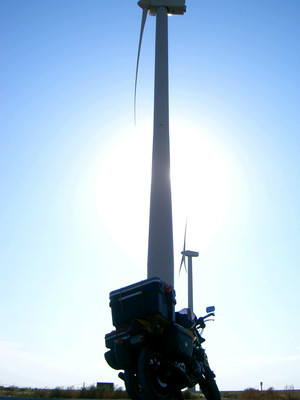 20th: fair weather continues. We ride through Kansas City a.k.a. the "heart of America" and keep going west in sunlight and humidity. Due to closed roads, we bend southwest and take the interstate. The prairies on both sides are so immense the freeway looks like a little promenade, and we never seem to see the next exit.
21st: sunny. Blown in the massive side wind from the south, we're crossing the vast state of Kansas, the place of the Wizard of Oz. We ride through the city of Greensburg that's been devastated in May by a tornado, to the city of Ulysses. There's a wind farm area along US 160 where one hundred and seventy gigantic mills stand in rows.
22nd: fair/scattered thunderstorms. We enter Colorado and proceed across the plain, watching the rain-dragging thunderclouds and lighting bolts ahead we hope to be avoidable, but they eventually turn out not. We pull out into a roadside premise and ask for shelter in a mobile home there. We get back on the road when the clouds are gone: finally into the West. The grass on the plain is now replaced by scattered shrubs, and by and by we start seeing in the distance the table-shaped elevations of land called mesas.
* Original entry in Japanese has appeared on September 1st, 2007 in Weekly New York Seikatsu and its online edition
Appendix
8/18 Correspondence

I want to make miles while taking attractive routes, but you can't connect to the internet for byway information all the time. Maybe I should download whatever I can when possible.

It had been pouring until a few minutes ago, but it's fair now. I guess we're quite lucky that we haven't hit any storm so far. Today we're riding in the direction of Kansas City. No need to mention but it's pretty tough to do a cross country on a 2 stroker.

8/20 Correspondence

We're crossing the grassy plains of Kansas now. We got on I-35 once and were made speechless by the view of the prairie with not even a little house on it. The next exit was about 30 miles ahead, and the freeway looked like a walkway across a lawn.

No ride in real rain so far, considerably lucky while Hurricane Dean is raging in the Caribbean and a bunch of thunderstorms are hitting the Midwest. We rather wanted some shower in the daytime on the 20th because it was too hot.

Into Kansas

The wind from the direction we're headed, the southwestern headwind in short, has been blowing so strong that the bikes wouldn't advance as usual. That affected the bikes' fuel efficiency and my 2 stroker RZ (despite my initial plans, I didn't sell it) ran out of gas. My buddy's EX still had much left, part of which was then given to me.

We've been staying at Super 8s these days. And our lunches are served mostly by McDonald's...

8/21 Correspondence

I only vaguely knew which state was where, but it your mind (or body?) absorbs it when you actually ride through one state after another. I thought the Midwest would be the tough part because it's full of nothingness, and I was right. Since Kansas City is called the Heart of America, now we've come more than halfway across this country. But probably it's still about one thirds of the whole trip, as we're planning to go up north after reaching California. The weather has been real nice to us so far.

Across Kansas

Same picture as Yesterday? No. It's just that the landscape doesn't change. Today is our 13th day on the road and we've come to the city of Ulysses in western Kansas, almost Colorado. The wind blows like crazy. There's few places to stop at. Gas is running out quick. We'll be in the West soon.

8/22 Correspondence

We entered Colorado, from the prairies and into the savannah where you see ranges of mesas (table-shaped elevations of land). We'll have to think seriously about gas from here on.

A mesa at sunset

My vocabulary was limited to a succession of "Whoa!"s when we started seeing mesas on the horizon, after those plains that seemed endless. We spent a little too much time watching the sunset, and it became a bit too dark for us to enjoy the road.

We've been focusing on making miles in the Midwest as we haven't felt like staying more than one night in one place. We avoided major routes because roads with less traffic were less frustrating, but they too came with other things to consider: Sometimes such roads become unpaved all of a sudden, and there're fewer gas stations along them. Today we were able to have a buffet-style lunch in the afternoon. And we had our dinner at Burger King...